Pediatric Dentists - Sheboygan
1313 N Taylor Dr,
Sheboygan, WI 53081-3090
(920) 452-7336
Find answers and other helpful dental topics in our digital library.
Posts for: September, 2017
By Just Kids Dental SC
September 28, 2017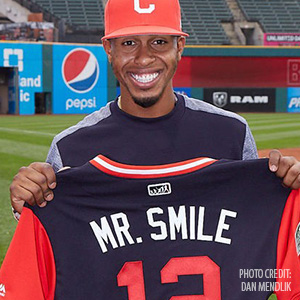 At the first-ever Players Weekend in August 2017, Major League Baseball players wore jerseys with their nicknames on the back. One player — Cleveland Indians shortstop, Francisco Lindor — picked the perfect moniker to express his cheerful, fun-loving nature: "Mr. Smile." And Lindor gave fans plenty to smile about when he belted a 2-run homer into the stands while wearing his new jersey!
Lindor has explained that he believes smiling is an important part of connecting with fans and teammates alike: "I've never been a fan of the guy that makes a great play and then acts like he's done it 10,000 times — smile, man! We've got to enjoy the game."
We think Lindor is right: Smiling is a great way to generate good will. And it feels great too… as long as you have a smile that's healthy, and that looks as good as you want it to. But what if you don't? Here are some things we can do at the dental office to help you enjoy smiling again:
Routine Professional Cleanings & Exams. This is a great place to start on the road toward a healthy, beautiful smile. Even if you are conscientious about brushing and flossing at home, you won't be able to remove all of the disease-causing dental plaque that can hide beneath the gum line, especially if it has hardened into tartar, but we can do it easily in the office. Then, after a thorough dental exam, we can identify any problems that may be affecting your ability to smile freely, such as tooth decay, gum disease, or cosmetic dental issues.
Cosmetic Dental Treatments. If your oral health is good but your smile is not as bright as you'd like it to be, we can discuss a number of cosmetic dental treatments that can help. These range from conservative procedures such as professional teeth whitening and bonding to more dramatic procedures like porcelain veneers or crowns.
Tooth Replacement. Many people hide their smiles because they are embarrassed by a gap from a missing tooth. That's a shame, because there are several excellent tooth-replacement options in a variety of price ranges. These include partial and full dentures, bridgework, and dental implants. So don't let a missing tooth stop you from being Mr. (or Ms.) Smile!
If you'd like more information about oral health or cosmetic dentistry, please contact us or schedule an appointment for a consultation. You can also learn more by reading the Dear Doctor magazine articles "Beautiful Smiles by Design" and "The Impact of a Smile Makeover."
By Just Kids Dental SC
September 13, 2017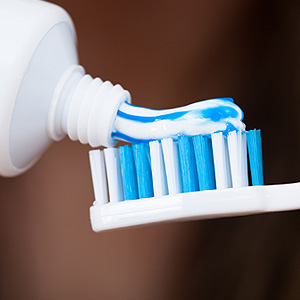 In the last half century, fluoride has become an effective weapon against tooth decay. The naturally occurring mineral helps strengthen enamel, the teeth's hard, protective cover.
Although it's safe for consumption overall, too much during early tooth development can lead to fluorosis, a brownish, mottled staining in enamel. To avoid it, a child's daily consumption of fluoride should optimally be kept at around 0.05-0.07 milligrams per kilogram of body weight, or an amount equal to one-tenth of a grain of salt per two pounds of weight.
The two main therapeutic fluoride sources have limits to help maintain this balance: utilities that fluoridate drinking water are required to add no more than 4 parts fluoride per million (ppm) of water; toothpaste manufacturers likewise only add a small amount of fluoride compared to clinical gels and pastes dentists apply to teeth for added decay protection.
But drinking water and toothpaste aren't the only sources of fluoride your child may encounter. Even if you have a non-fluoridated water supply, you should still keep a close watch on the following items that could contain fluoride, and discuss with us if you should take any action in regard to them.
Infant formula. The powdered form especially if mixed with fluoridated water can result in fluoride concentrations 100 to 200 times higher than breast or cow's milk. If there's a concern, use fluoride-free distilled or bottled spring water to mix formula.
Beverages. Many manufacturers use fluoridated water preparing a number of packaged beverages including sodas (two-thirds of those manufactured exceed .6 ppm), soft drinks and reconstituted fruit juices. You may need to limit your family's consumption of these kinds of beverages.
Certain foods. Processed foods like cereals, soups or containing fish or mechanically separated chicken can have high fluoride concentrations, especially if fluoridated water was used in their processing. When combined with other fluoride sources, their consumption could put children at higher risk for fluorosis.
Toothpaste. Although mentioned previously as a moderate fluoride source, you should still pay attention to how much your child uses. It doesn't take much: in fact, a full brush of toothpaste is too much, even for an adult. For an infant, you only need a smear on the end of the brush; as they grow older you can increase it but to no more than a pea-sized amount.
If you would like more information on fluoride and how it strengthens teeth, please contact us or schedule an appointment for a consultation. You can also learn more about this topic by reading the Dear Doctor magazine article "Fluoride & Fluoridation in Dentistry."