Pediatric Dentists - Sheboygan
1313 N Taylor Dr,
Sheboygan, WI 53081-3090
(920) 452-7336
Find answers and other helpful dental topics in our digital library.
Posts for: October, 2014
By Just Kids Dental SC
October 27, 2014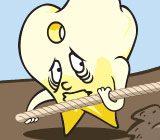 Your teeth are under constant attack from bacteria that normally live in your mouth. When these bacteria thrive, they create acid that begins to dissolve the minerals in your enamel (the outer layer of your teeth). In your defense, your saliva protects against these bacteria and adds minerals back to your enamel. Let's take a look at this ongoing battle, and what you can do to sway it in a positive direction.
The outer covering of your teeth, the enamel, is made mainly of the minerals calcium and phosphate. The enamel protects the interior layer of your teeth, the dentin, which is similar in composition to bone. Although it is the hardest substance in your body, the enamel is still vulnerable to attack.
Your mouth is normally full of saliva, which washes over your teeth and maintains a balance between acids and bases. The terms "acids" and "bases" refer to a scientific measurement, the pH scale. Your mouth's pH is usually in the middle of the scale — neither acidic nor basic, but neutral. This is important in controlling the bacteria in your mouth.
You may be surprised to know how many bacteria live in everyone's mouth. More bacteria live in a single mouth than the number of people who have ever lived on earth. Some of these bacteria can cause tooth decay. Let's call them "bad bacteria."
When the bad bacteria attach themselves to dental plaque — a film that builds up on your teeth every day — they begin to consume sugars that are in your mouth from foods that you have eaten. As the bacteria break down these sugars and turn them into energy, acid is produced as a by-product. This turns the saliva from neutral to acidic.
At a certain level of acidity, minerals in your enamel start to dissolve. This is called "de-mineralization." It means that more calcium and phosphate are leaving the tooth's surface than are entering it. Early de-mineralization of the enamel shows up as white spots on a tooth.
Fortunately, healthy saliva can return calcium and phosphate to the enamel, or re-mineralize it. De-mineralization and opposing re-mineralization are constantly battling in your mouth. However, if too much enamel is de-mineralized, bacterial acid can go on to attack the next layer of your teeth, the dentin. As this process continues, you develop a dental cavity.
How can you protect your teeth? The first level of defense is regular removal of plaque, so that the bad bacteria do not get a foothold. In an office visit we may also recommend products such as sealants, antibacterial agents, topical fluoride, calcium and phosphate supplements, pH neutralizers, special toothpaste and rinses, which may help your particular situation.
Contact us today to schedule an appointment to discuss your questions about tooth decay. You can learn more by reading the Dear Doctor magazine article "Tooth Decay — The World's Oldest & Widespread Disease."
By Just Kids Dental SC
October 09, 2014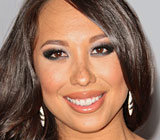 If you've ever watched Dancing with the Stars on television, you've no doubt noticed the vivacious and talented Cheryl Burke, whose ballroom dance moves are as captivating as her bright smile. In fact, Cheryl considers her smile to be one of her most important assets as a professional dancer.
"As a performer, you're basically smiling the whole time," Cheryl told Dear Doctor magazine recently in an exclusive interview. "It's just really important to take care of your teeth and have a great smile."
Cheryl is very conscientious about caring for her smile, but that wasn't always the case. In the Dear Doctor interview, Cheryl revealed that her teeth suffered from ineffective oral hygiene when she was younger. "I definitely had my share of cavities," Cheryl recalled, adding that she believed this was her own fault. "I didn't use floss," She explained. "I think when you do floss frequently, it helps to reduce the chances of getting cavities. It took me a while to figure it out."
Once Cheryl did figure it out, she was able to make cavities a thing of the past. But in order to make sure the effects of her prior tooth decay did not mar her lovely smile, she made sure her dentist — who is also her stepdad! — gave her tooth-colored fillings that could not be distinguished from the surface of a natural tooth. "It's important for me," Cheryl said.
Lots of dental patients feel the same way, even if they don't spend time in front of television cameras. That's why the dental profession has developed tooth-like materials such as composite resins and porcelains that mimic natural tooth material exactly. These materials are also suitable for children's teeth and can incorporate fluoride to reduce tooth decay. It's even possible to replace old silver-colored fillings with these newer dental materials.
If you would like to learn more about tooth-colored fillings, please contact us to schedule an appointment for a consultation. To read Dear Doctor's entire interview with Cheryl Burke, please see "Cheryl Burke." Dear Doctor also has more on "The Natural Beauty of Tooth-Colored Fillings."